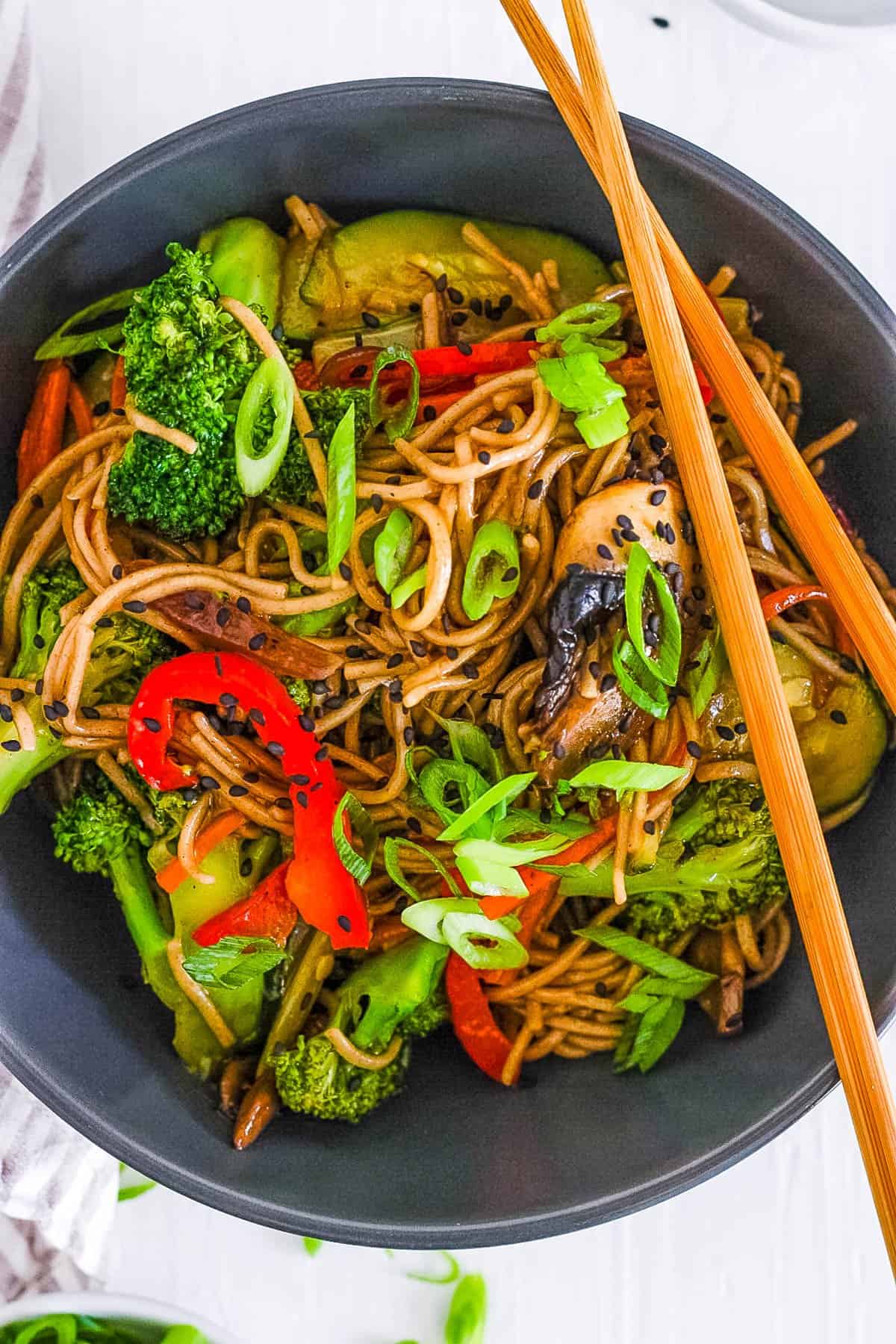 Soba Noodles: These are a type of Japanese noodle made from buckwheat flour and a little bit of wheat flour. They have a nutty flavor and a chewy texture that work great in stir-fries. Feel free to use whatever type of noodle you like in this Japanese teriyaki noodles recipe.
Olive Oil: For sauteing the vegetables! Vegetable oil works great too.
Thinly Sliced Vegetables: Red onion, celery, zucchini, red bell peppers, carrot, and baby portabella mushrooms are a delicious combo! Broccoli florets add texture and natural sweetness, but feel free to throw in your favorite veggies. Bok choy, peas, spring onions, snow peas, and baby corn taste great too!
Maple Syrup: I prefer maple syrup for the added antioxidants, but honey and brown sugar are perfect swaps! Keep in mind, using honey will make this recipe not vegan (it will still be vegetarian).
Soy Sauce: Soy sauce is the main ingredient of teriyaki sauce. It's fairly high in sodium so buy reduced-sodium if you prefer. Soy sauce is a versatile condiment to have on hand. It adds salty flavor to marinades, soups, sauces, and stir-fries.
Apple Cider Vinegar: White or rice vinegar works if you don't have apple cider vinegar.
Fresh Garlic: Garlic sweetens and mellows as it cooks. For a little shortcut, buy a jar of pre-minced garlic, so it's ready to go. If you can't find fresh garlic, you can also use garlic powder.
Ginger: Ginger root has a spicy and pungent flavor that's delicious! Mince it up or grate it with a microplane.
Sesame Oil: A little bit of sesame oil goes a long way! It has a deep, rich flavor with a nutty taste.
Cornflour: Cornflour is another term for cornstarch. It thickens the mixture to create a sticky and sweet sauce!