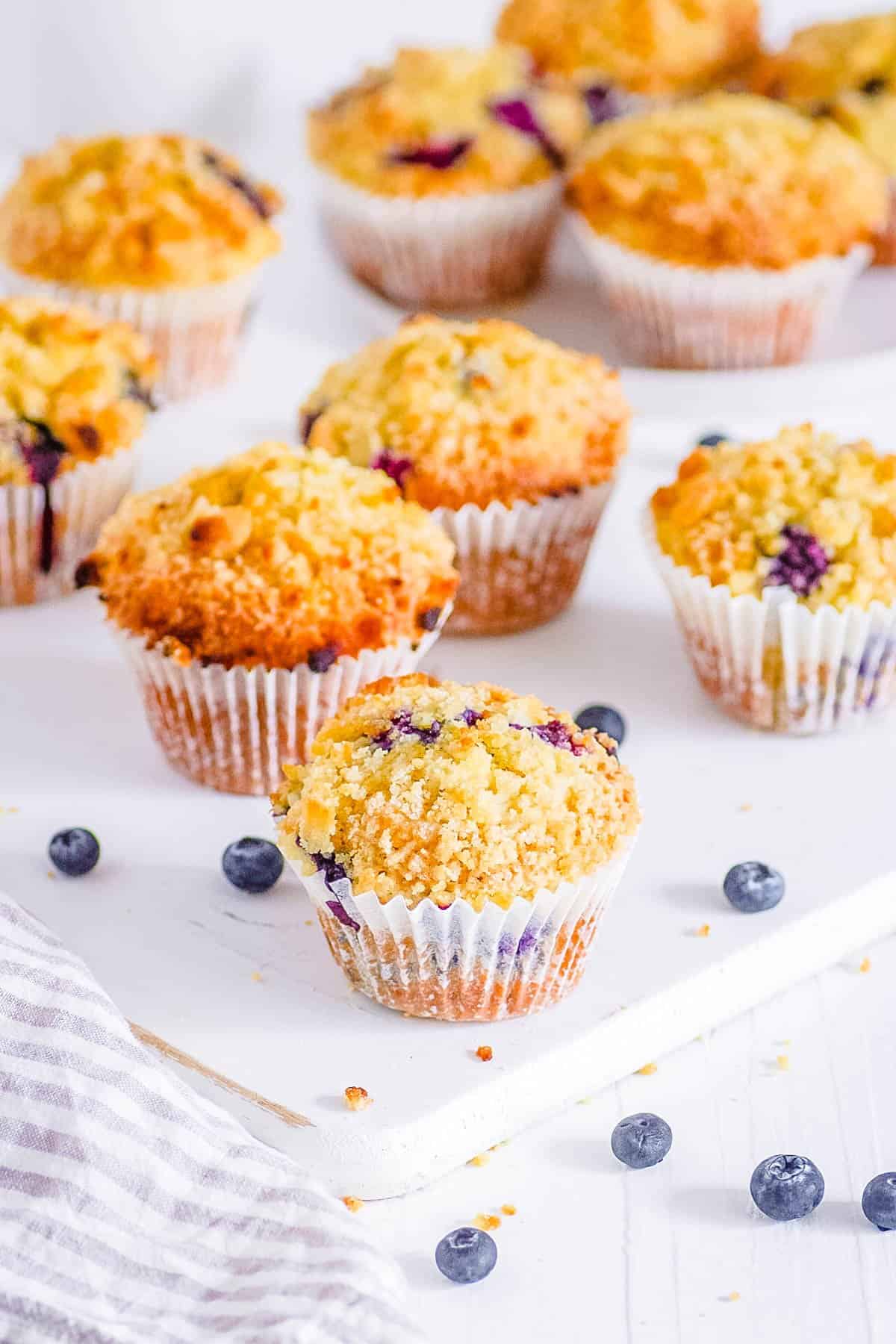 This post may contain affiliate links. As an Amazon Associate, I earn from qualifying purchases. Please read my disclosure.

Sourdough muffins are perfect for an easy breakfast or afternoon snack. They're made with an active sourdough starter, giving them a delicious sourdough flavor! Filled with fresh blueberries, lemon zest, and almond milk and topped with a crumbly sugar mixture — this is sure to become one of your favorite recipes!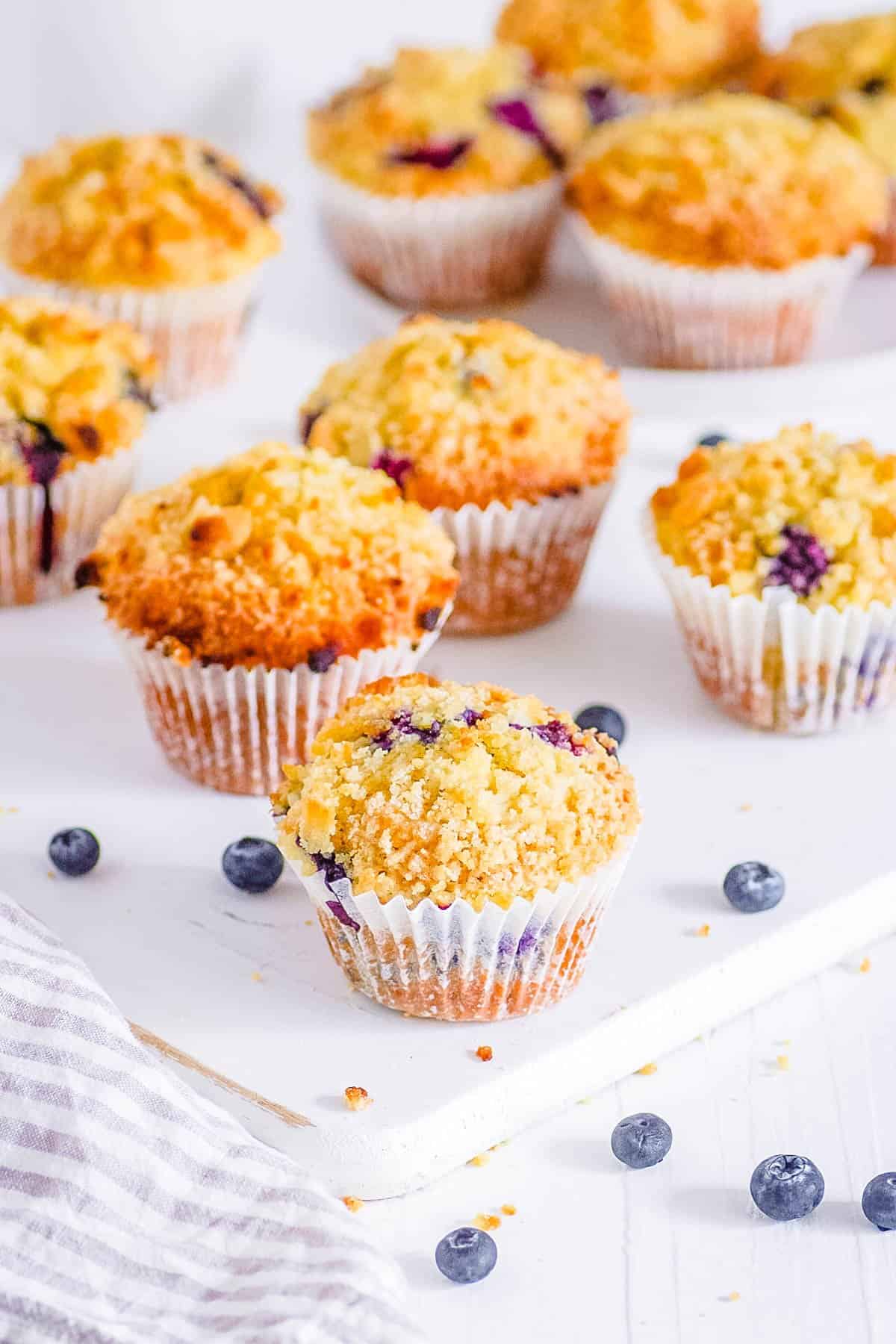 This easy recipe for sourdough blueberry muffins are perfect for a grab and go breakfast or a healthy snack. It's also a great recipe for using up any extra leftover sourdough starter you might have on hand!
Latest Recipe Video!
This recipe can easily be made to fit your preferences by adding mix-ins or substituting other ingredients!
You can keep them fresh for a couple of days after baking them or give them away as gifts to your friends and family. It won't be long until you're asked to make them again! 
👩🏽‍🍳 Why This Recipe Works
Easy muffins 
Sourdough discard recipe
Great texture
Family favorite 
Perfect afternoon snack 
Healthier option 
The best sourdough muffins you'll ever taste! 
🥘 Ingredients
This recipe calls for just a few basic ingredients, easily found at your grocery store!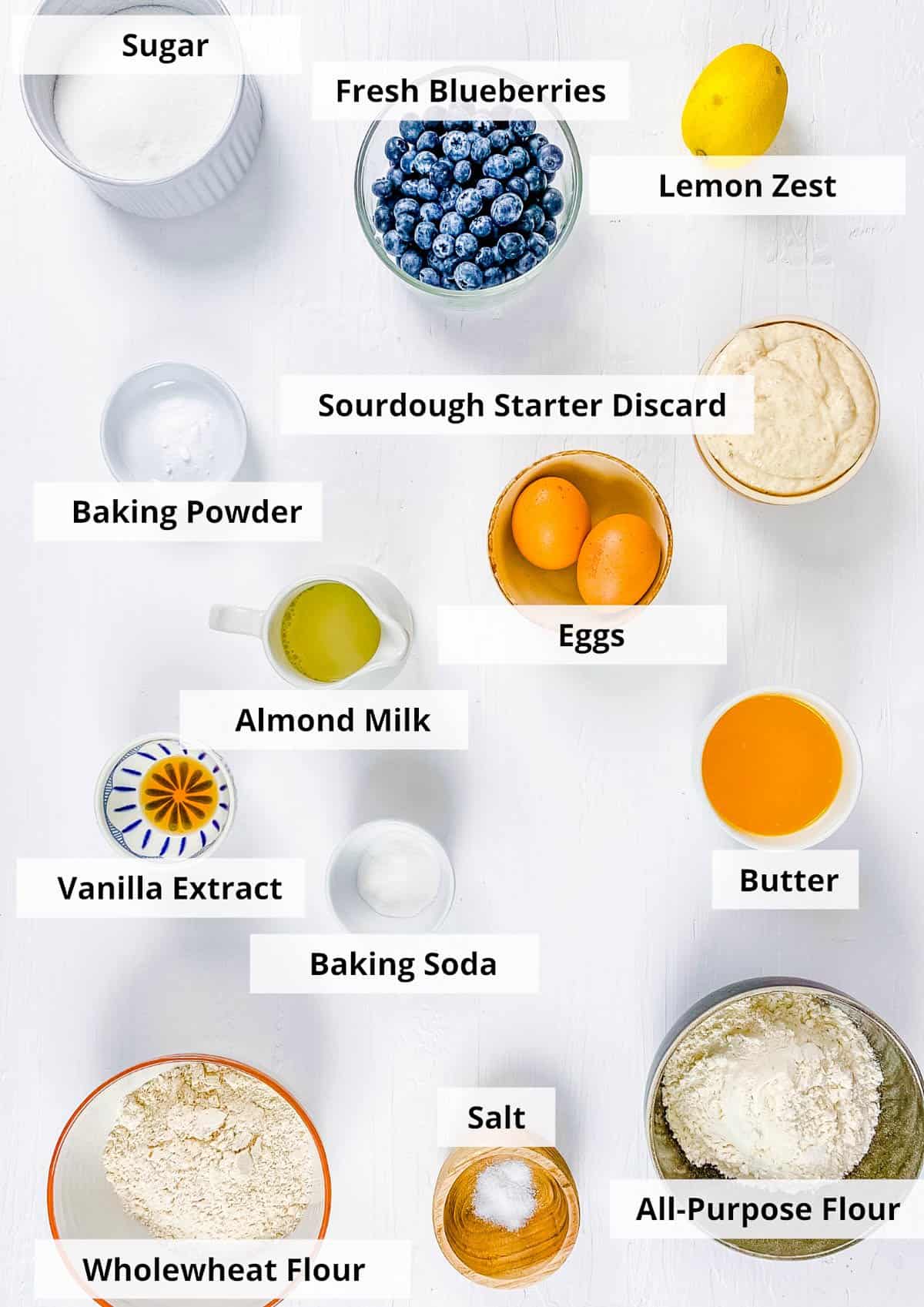 Flours: All-purpose flour is the best way to get great texture with each bite of these muffins. Whole wheat flour is a great way to get extra fiber and add some whole grains to your diet. 
Leaveners: Baking soda and baking powder help these delicious muffins rise along with the leftover sourdough starter.
Sugar: Granulated white sugar is perfect for this family favorite recipe. You can substitute other natural sugars if you'd like.
Salt: Salt enhances the flavors, brings out the sweetness, and balances the other ingredients. 
Sourdough Starter Discard: Whether you make your own sourdough starter through the fermentation process or are gifted an active starter with a starter train, you can use it for this muffin recipe. These muffins have a slight sourdough flavor that makes for the best muffins.
Eggs: This sourdough recipe needs eggs or an egg substitute to help the mixture combine and rise. 
Butter: Use unsalted butter for these sourdough blueberry muffins so you can control the salt in the recipe.
Lemon zest: A little bit of lemon zest complements the fresh blueberries wonderfully. 
Vanilla Extract: Use the best vanilla extract you can find at the grocery store or make your own at home. 
Almond Milk: You can substitute almond milk for whole milk, raw milk, sour cream, or buttermilk.
Blueberries: Fresh blueberries are an excellent flavor addition to this amazing recipe. Frozen blueberries would also work. Feel free to replace them with a different fruit (see variations below!)
Topping Ingredients: Flour, sugar, and butter are combined in a medium bowl to make a topping that you sprinkle over the muffin tin right before popping the batter in the oven. 
📖 Variations
You can easily alter these easy sourdough muffins to fit your specific dietary needs, wants, or requirements. Here are some delicious options for you to choose from!
Mix-Ins: Add other ingredients to this blueberry sourdough muffins recipe like chocolate chips, apples or other fresh fruit, warm spices like cardamom or all spice, or different extracts like lemon extract, almond extract, etc.
Sourdough Cinnamon Muffins: Add 1/4-1/2 teaspoon cinnamon to the batter, and sprinkle some ground cinnamon on top!
Sourdough Pumpkin Muffins: Use 1/2 cup pumpkin puree instead of the 2 eggs in this recipe! You'll end up with blueberry pumpkin muffins!
Sourdough Banana Muffins: Use 1/2 cup banana puree instead of the 2 eggs in this recipe for a banana bread inspired muffin.
Sugar: Replace the granulated white sugar with maple syrup, coconut sugar, brown sugar, or honey if you want a more natural sweetener. You can also cut the sugar in half to make a healthier muffin!
Fat: Substitute a different kind of fat for the butter. Some options are avocado oil, vegetable oil, coconut oil, or canola oil.
Gluten Free Sourdough Blueberry Muffins: Just use 1:1 gluten-free flour to make these muffins gluten free! I like Bob's Red Mill 1:1 Baking Flour.
Make It Vegan: You can make this recipe vegan by replacing the eggs with vegan egg substitute and the butter with extra virgin olive oil or vegan butter. 
🔪 Instructions
Here is a brief description of the recipe. To see the full recipe, see the recipe card below.
Prepare the muffin tray: Line a 12 hole muffin pan with muffin liners. Combine the topping: In a small bowl, add the topping ingredients. Use a fork to combine to form a crumble. Set aside.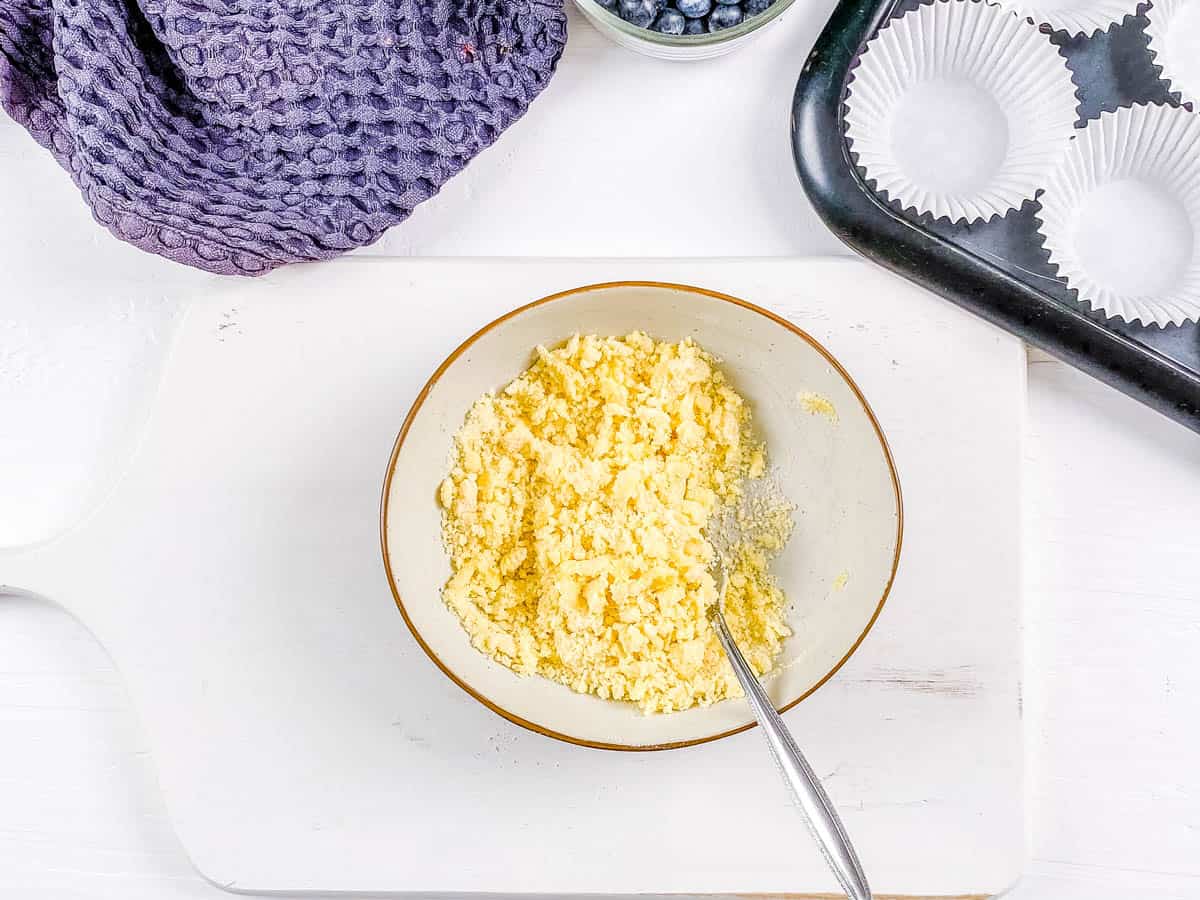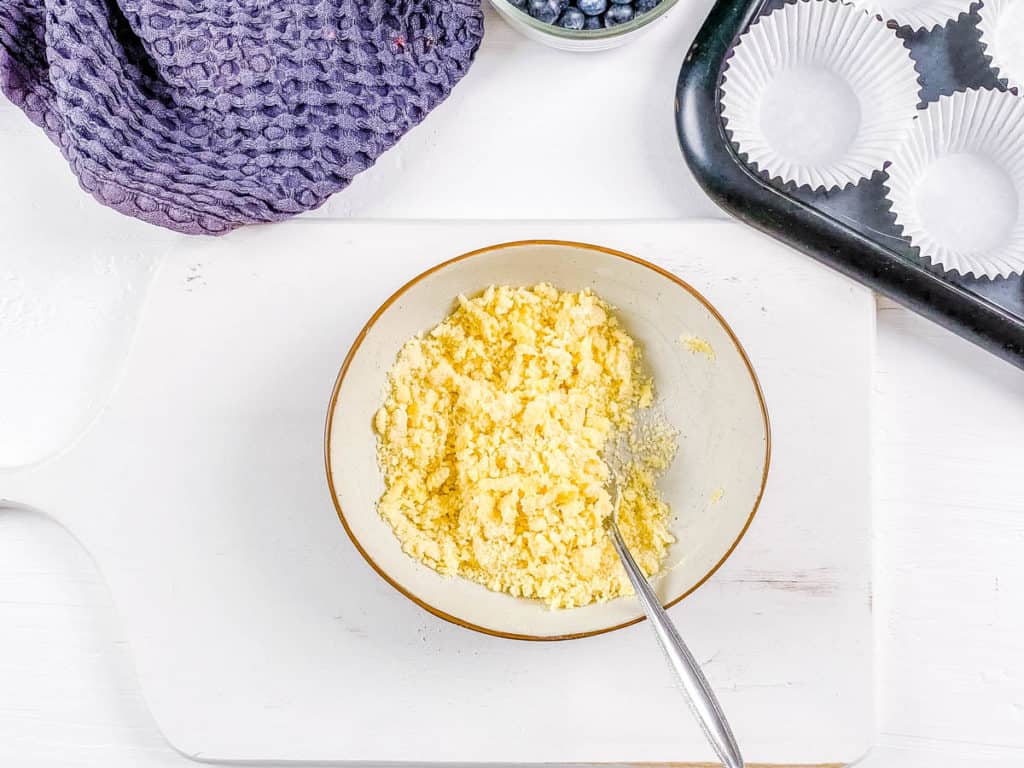 Mix the dry ingredients: In a large mixing bowl, mix together the flours, baking powder, and soda, along with the sugar and salt. Whisk until well combined.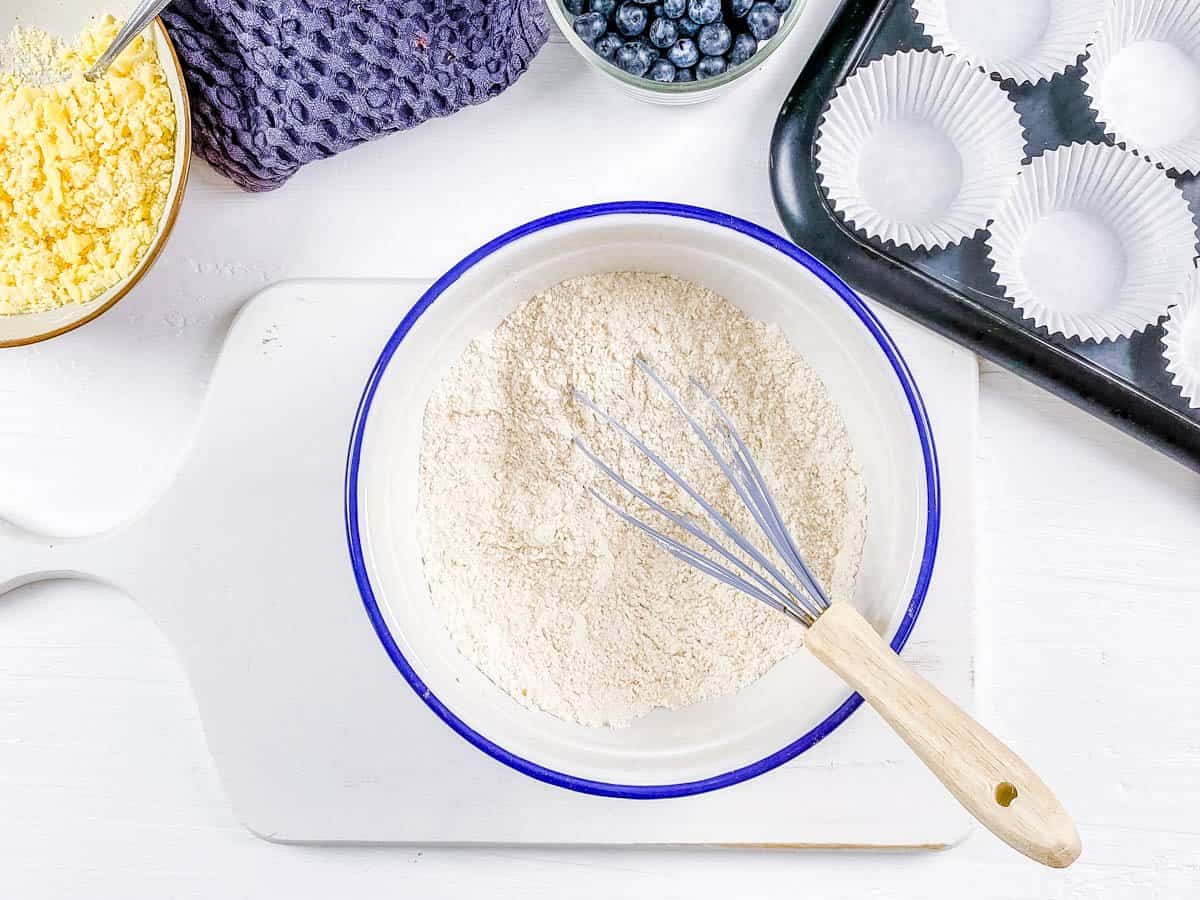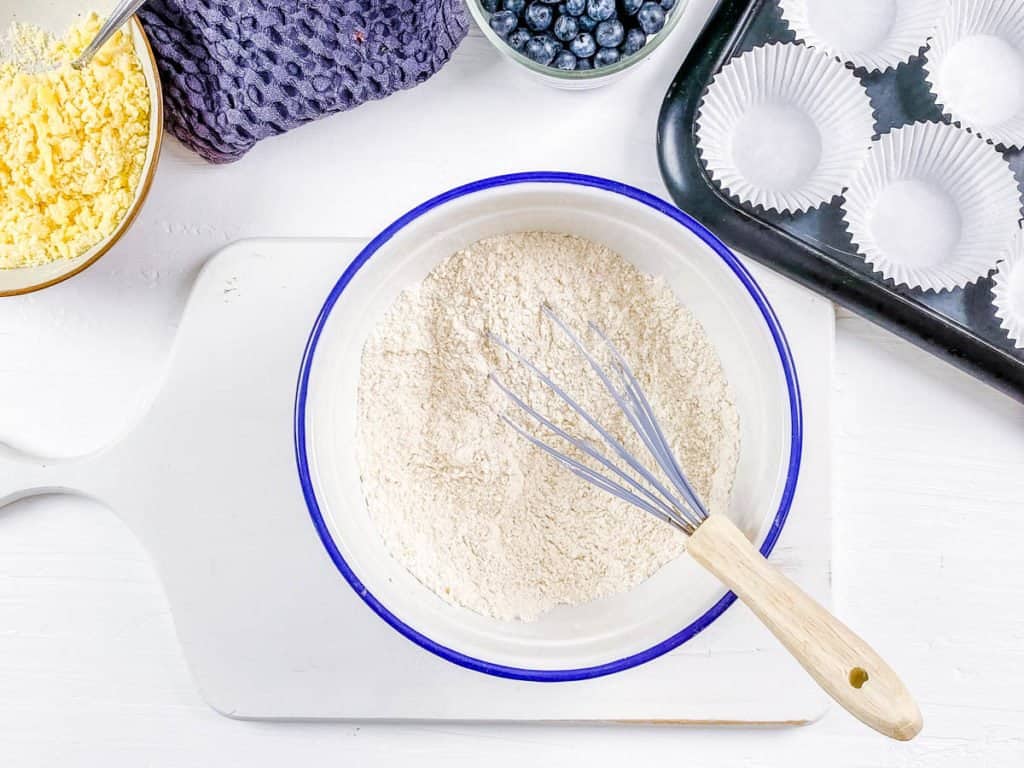 Mix the wet ingredients: In a separate bowl, add the active starter, two eggs, melted butter, lemon zest, vanilla extract, and almond milk. Whisk until smooth.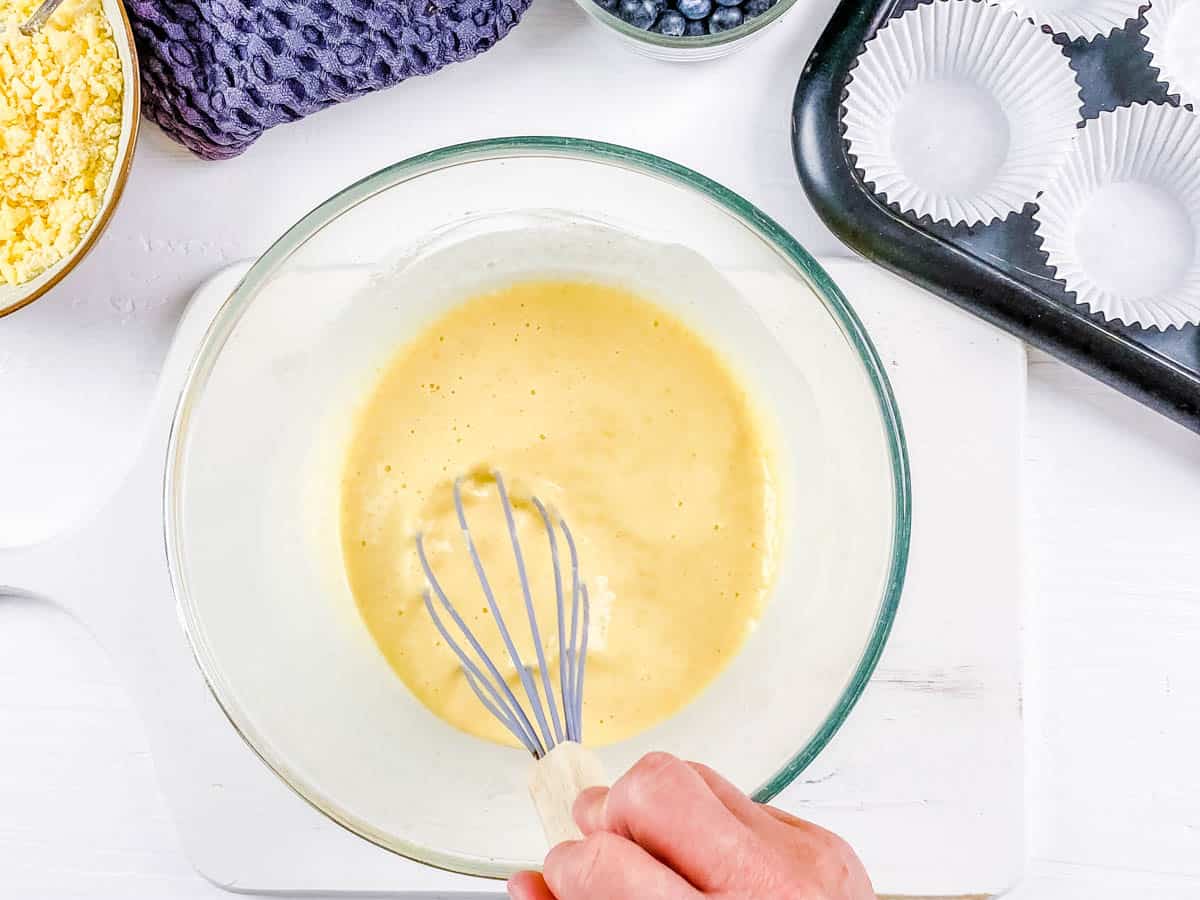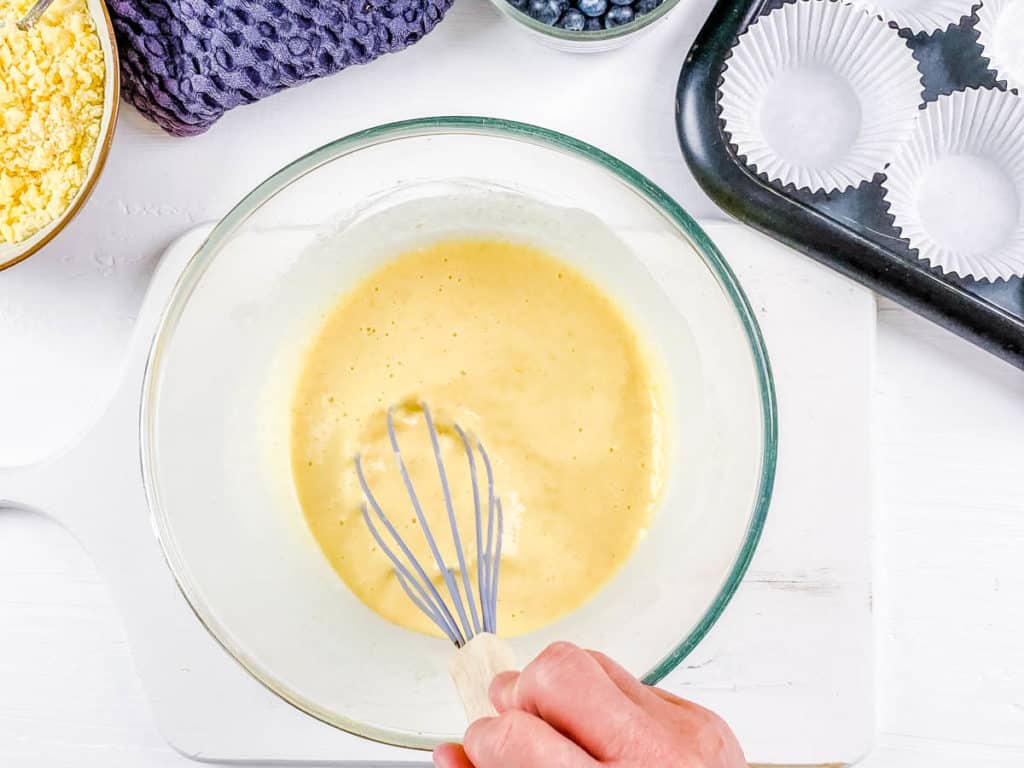 Combine the wet and dry ingredients: Pour the wet ingredients into the flour mixture and the fresh blueberries. Gently fold in the mixture with a wooden spoon until combined. Do not over mix the batter.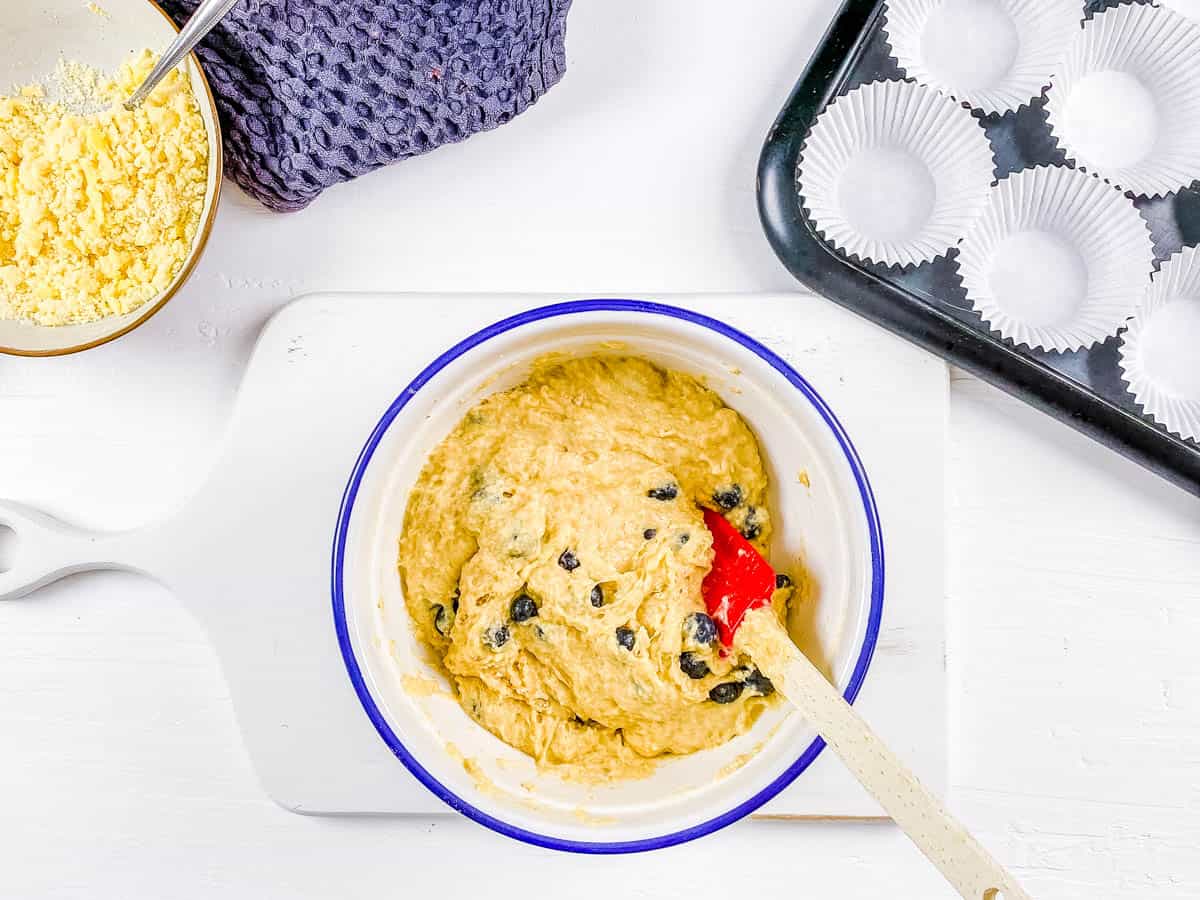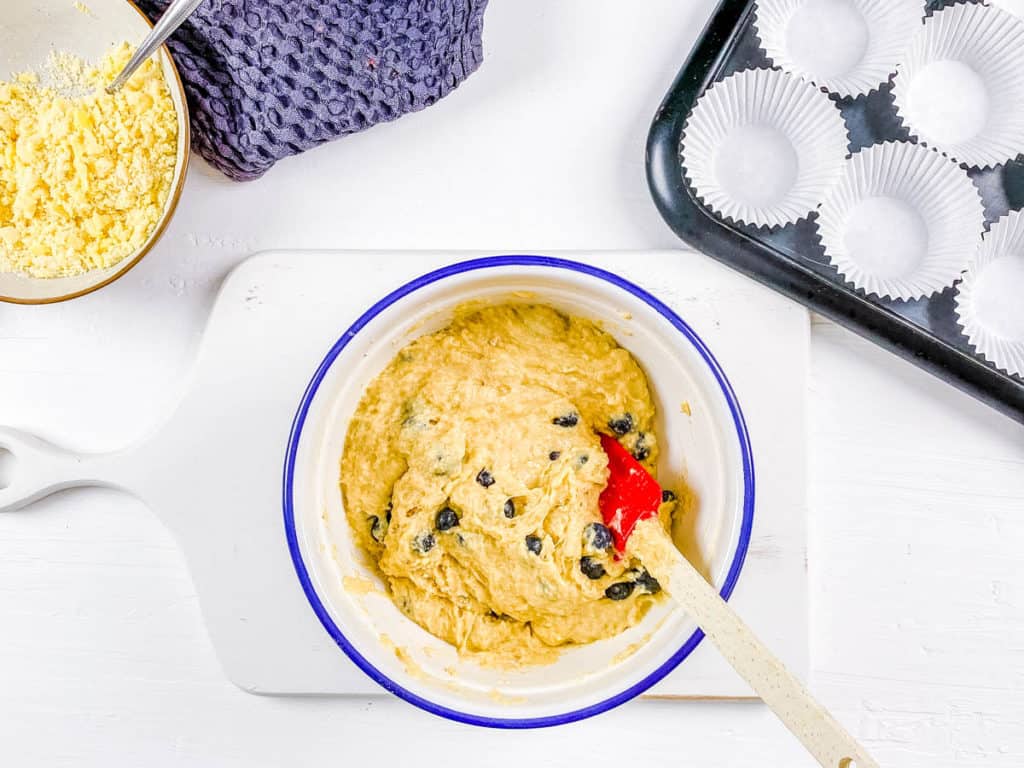 Bake: Evenly divide the muffin batter amongst 12 muffin liners.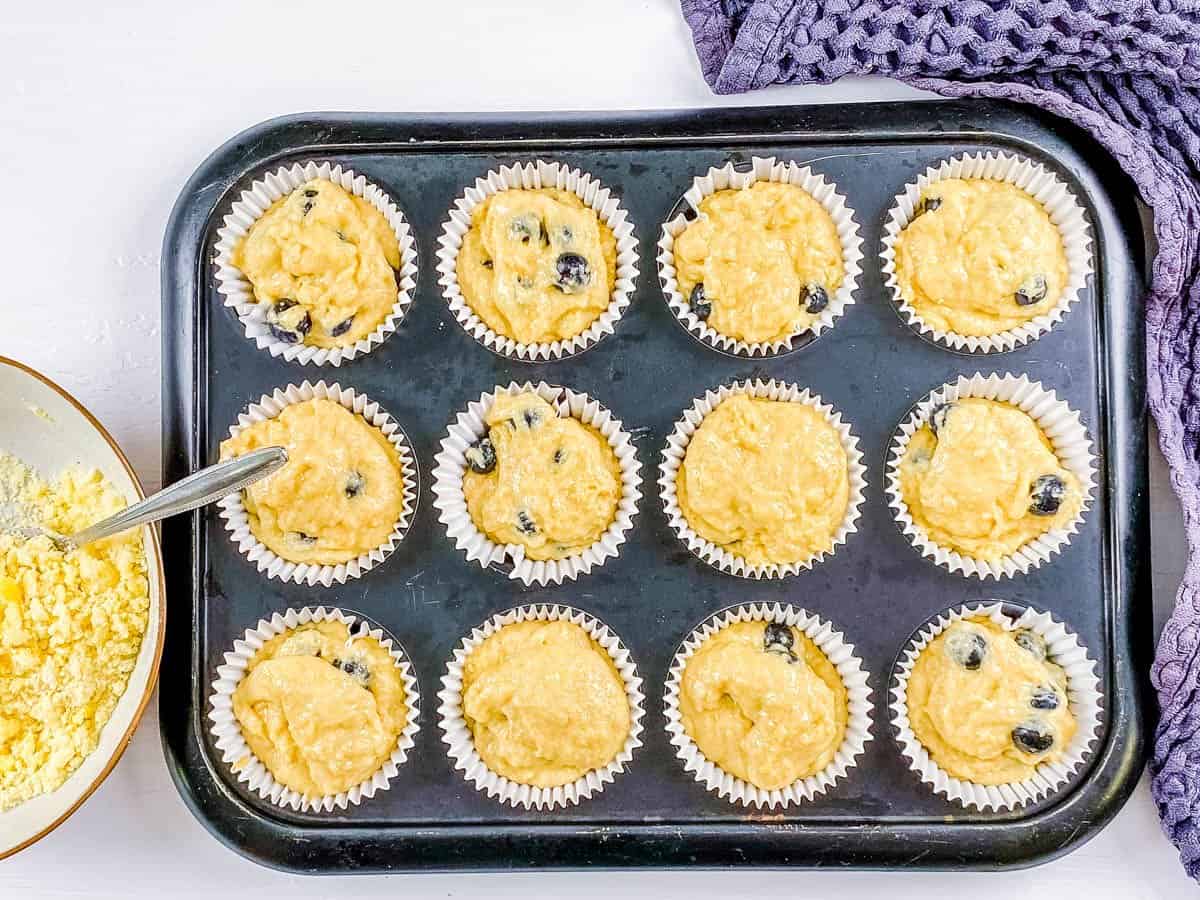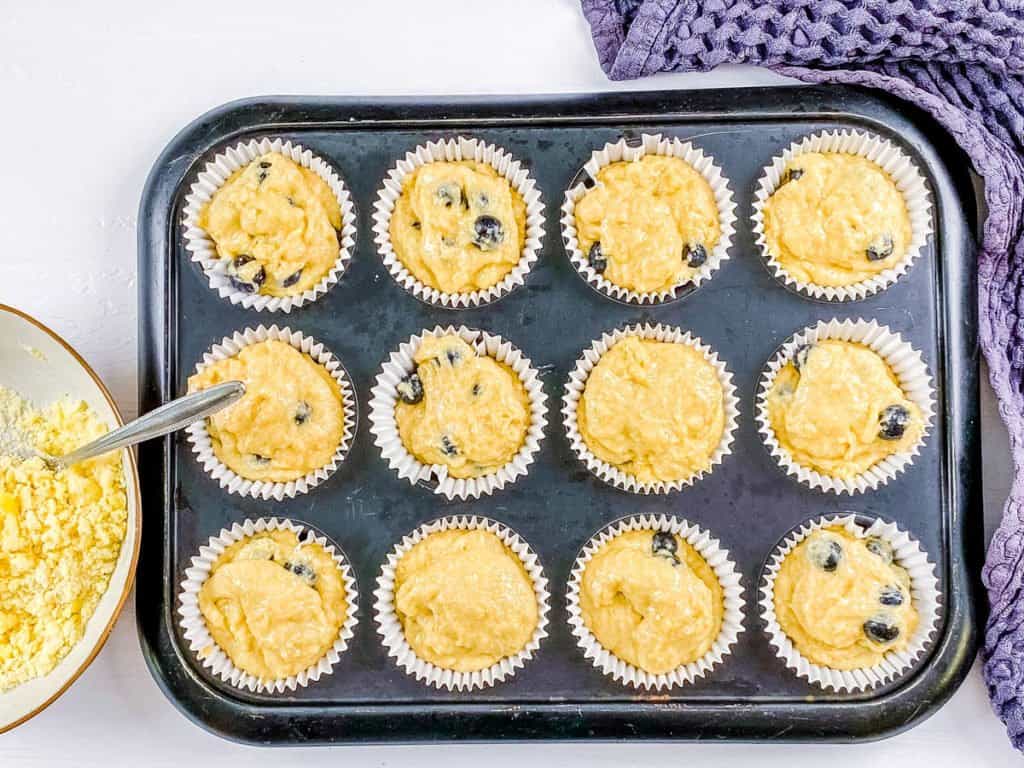 Sprinkle the prepared topping mixture over each of the cupcakes.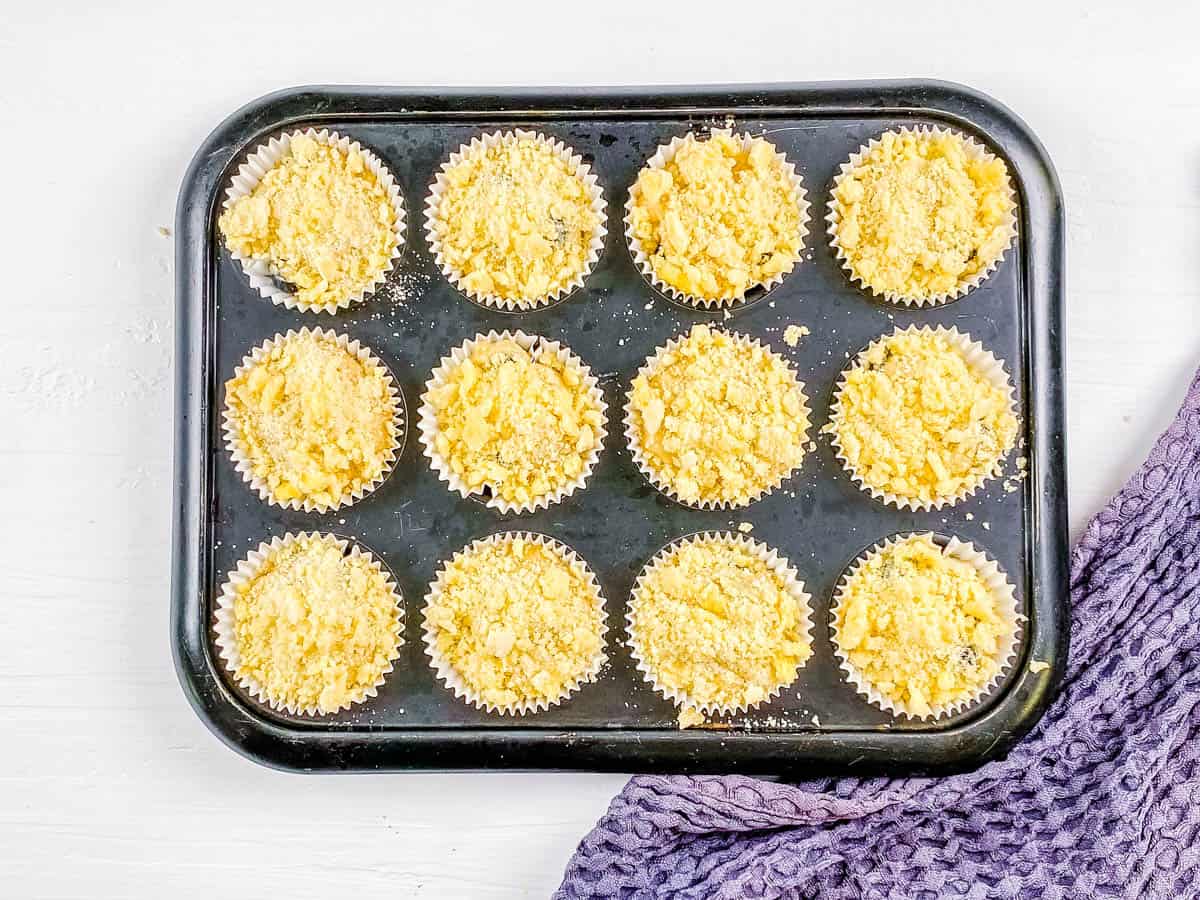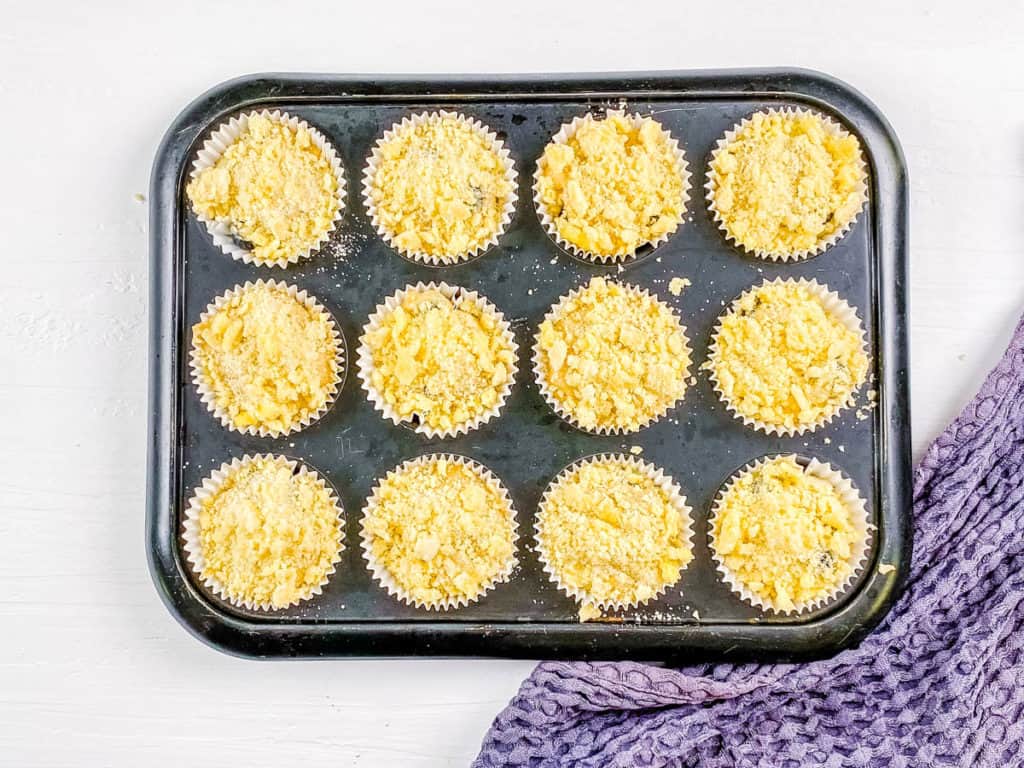 Place the muffins into the oven and bake for 20 minutes or until an inserted skewer comes out clean.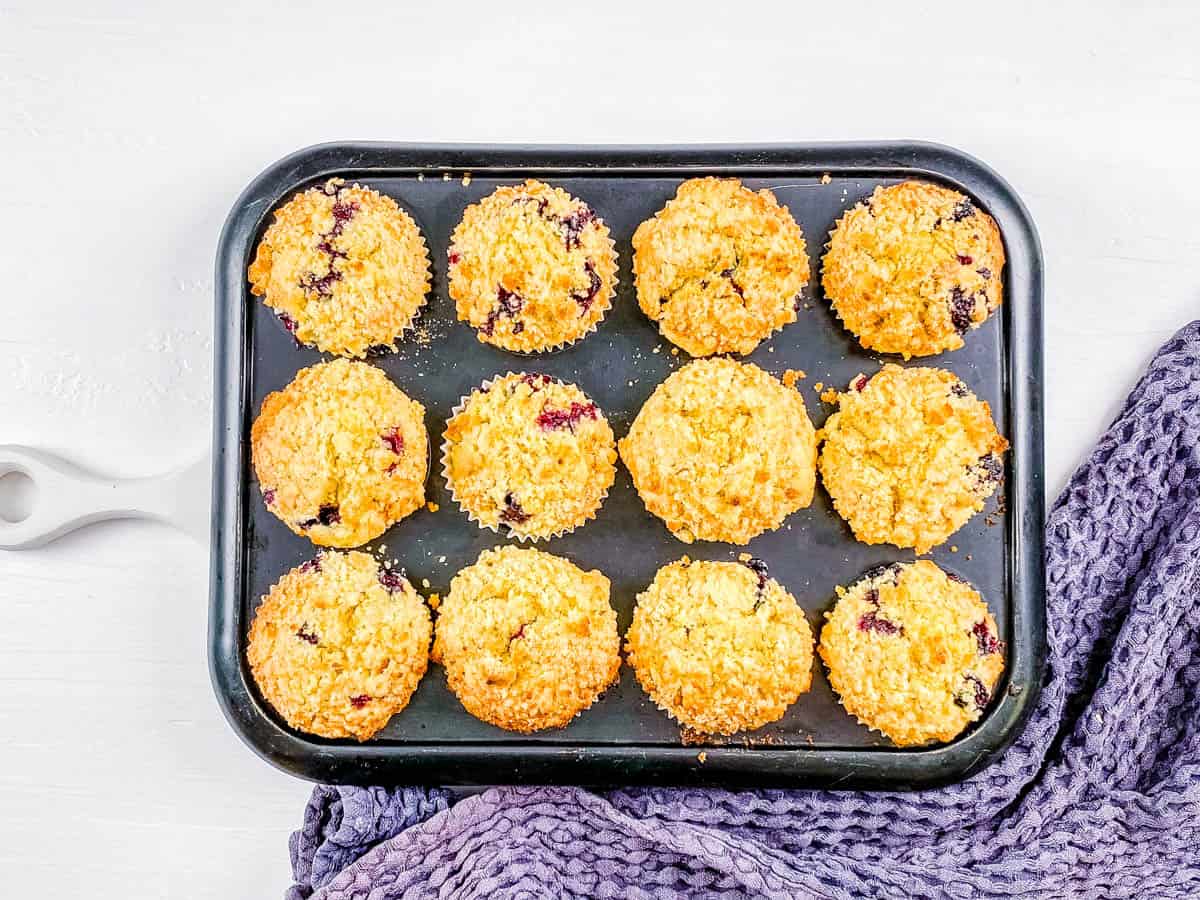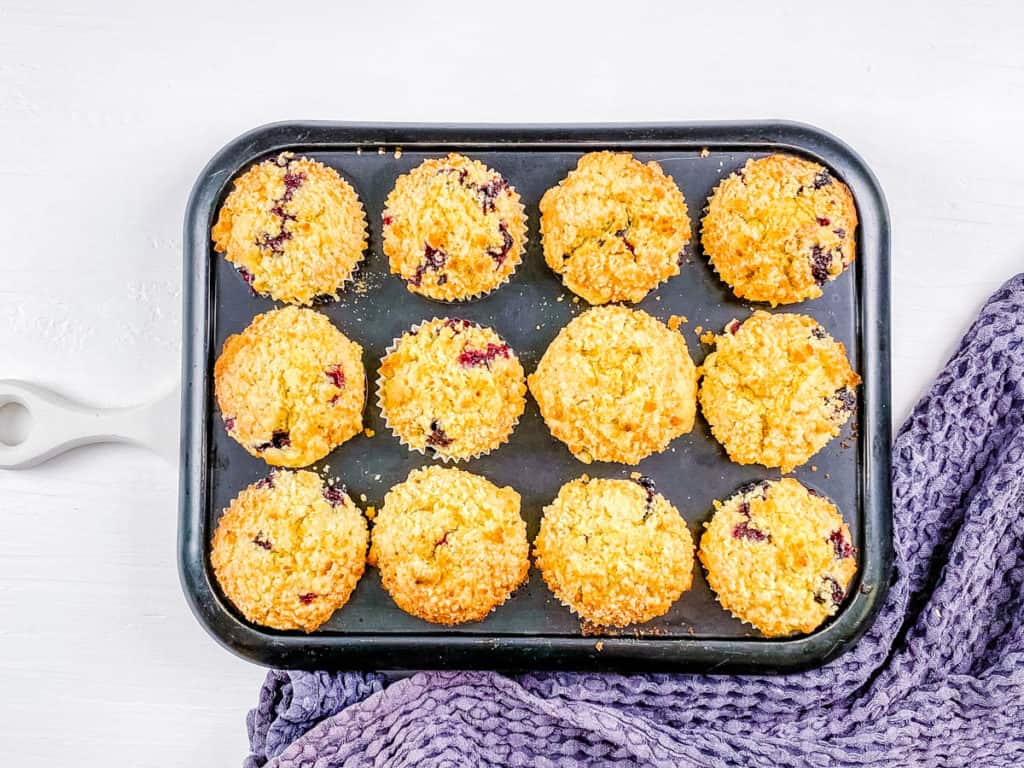 Cool and serve: Transfer to a wire rack and serve.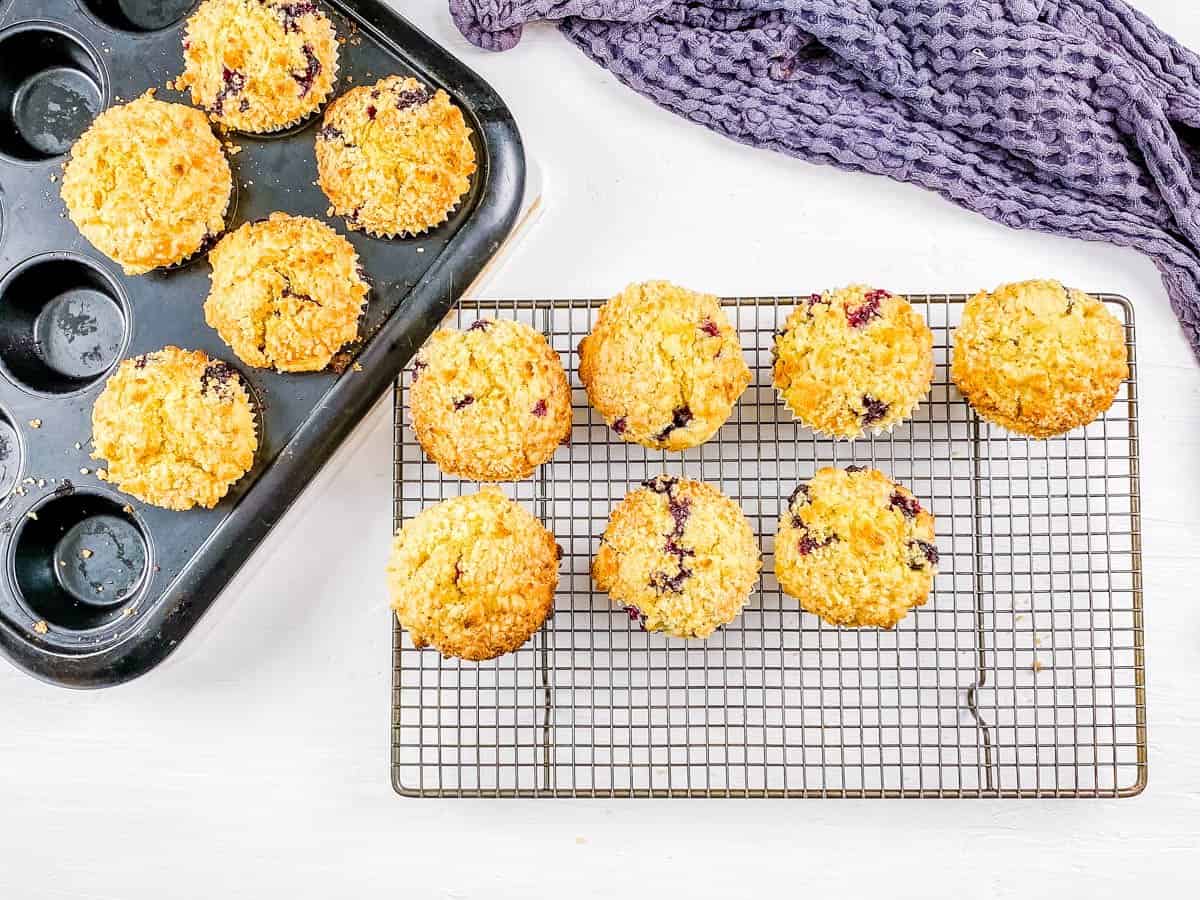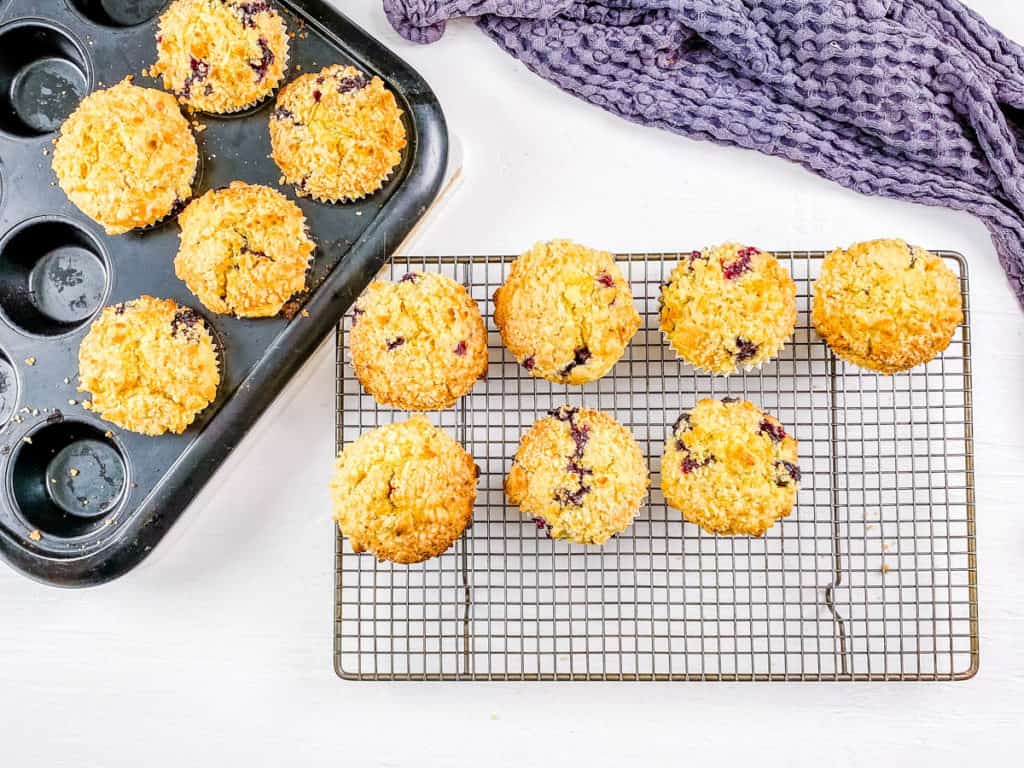 ❓Recipe FAQs 
How do you store sourdough starter muffins?
Keep any leftover muffins in an airtight container on the counter for three days. 
You can also freeze the muffins. Allow them to cool to room temperature, wrap them in plastic wrap, place them in a zip-top bag, and put the bag in the freezer. Remember to write the label and date on the outside of the bag with a permanent marker so you remember what you've frozen later. 
How to serve this sourdough muffin recipe?
The blueberry flavor of these muffins is perfect for breakfast or an afternoon snack. These sourdough blueberry muffins are a delicious way to start your day.
Serve them alongside coffee or tea, alongside a larger brunch spread with scrambles and pancakes, or enjoy them all on their own!
Why are my sourdough discard muffins flat?
The most likely reason your muffins didn't rise is that your baking powder & baking soda are too old. When baking these muffins, be sure to fill the muffin pan about ⅓ of the way to the top and set the oven to a high temperature. Make sure your baking powder & baking soda are freshly opened. The fresh combination of the two rising agents and the high heat will force the muffins to rise more quickly, creating air pockets that make them tall muffins.
Are sourdough muffins healthy?
The answer is: it depends! If you pack these tender muffins full of refined flour and sugar, then they aren't healthy. But my recipe for healthy sourdough muffins uses whole wheat flour for more fiber, has a low sugar option, and are filled with antioxidant-rich blueberries. On top of that, you get to use your own sourdough starter with this recipe. These are a healthier option than many other muffin recipes out there!
💭 Expert Tips
Be sure your sourdough starter is bubbly and active. If it's not, feed it the day before you plan to use it (but not right before you use it).
Sourdough starter can be either discard or ripe starter, either will work well.
Make a crunchy topping rather than crumbly topping by leaving out the flour and sprinkling the tops of the muffins with raw sugar.
If the batter is too thick, add one or two tablespoons of whole milk. This is a great way to thin it out a little bit.
Don't use paper liners if you want the bottom of the muffins to get brown.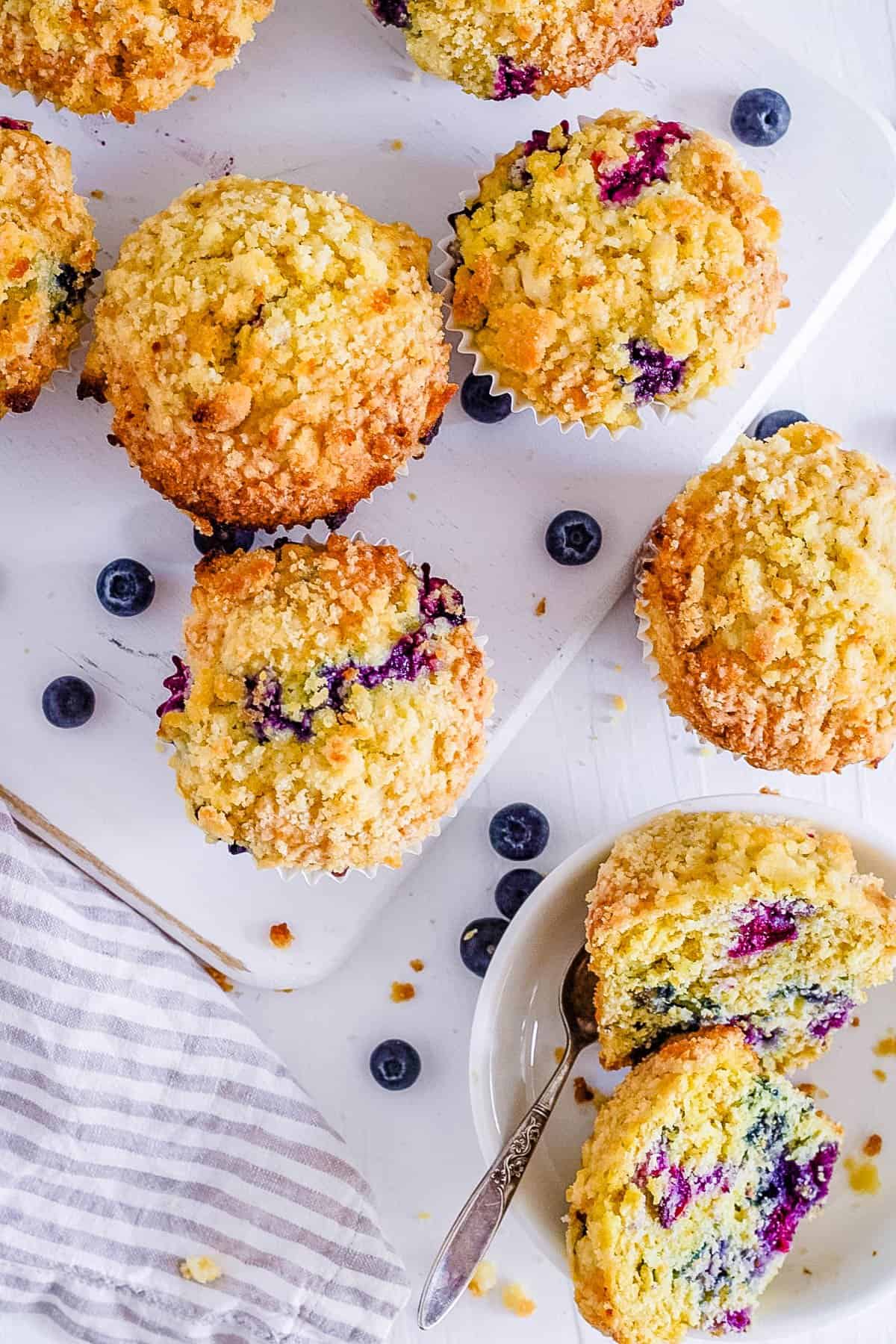 🧁 More Muffin Recipes!
📋 Recipe Card
Sourdough Muffins
Sourdough muffins are perfect for an easy breakfast or afternoon snack. They're made with an active sourdough starter, giving them a delicious sourdough flavor! Filled with fresh blueberries, lemon zest, and almond milk and topped with a crumbly sugar mixture — this is sure to become your new favorite recipe! 
Servings: 12
Calories: 261kcal
Nutritional information calculated using lower sugar values mentioned in the ingredients list above. With the full amount of sugar, each muffin will have 20 grams of sugar. 
Sourdough starter can be either discard or ripe starter, either will work well.
Fresh or frozen blueberries work well in this recipe.
Substitute the flours for gluten-free flour to make this recipe gluten-free.
Muffins can be stored in the fridge for up to 5 days or frozen for up to 3 months.
Serving: 1muffin | Calories: 261kcal | Carbohydrates: 37g | Protein: 5g | Fat: 11g | Saturated Fat: 7g | Polyunsaturated Fat: 1g | Monounsaturated Fat: 3g | Trans Fat: 1g | Cholesterol: 54mg | Sodium: 198mg | Potassium: 118mg | Fiber: 2g | Sugar: 14g