With growing concerns about environmentally-harmful materials and toxins in synthetic yoga mats, eco-conscious yogis are looking for an alternative. But we're not willing to sacrifice traction, cushion, comfort, or affordability just for the sake of
Luckily, cork yoga mats check all the boxes and protect the environment in the process. For over 5,000 years, cork has been used for everything from boats to footwear to flooring to wine stoppers. Thanks to its naturally anti microbial and anti slip properties, this ancient renewable resource is perfectly suited for yoga mats. Cork yoga mats are even odor-resistant and become more "grippy" as you sweat, making them perfect for hot yoga.
However, not all cork mats are created equal. Some are outrageously overpriced, while others are made with low quality materials. We decided to review the top 7 cork yoga mats to find the best cork mat for earthy yogis.
Quick Picks
What is a Cork Yoga Mat?
Cork yoga mats are an eco friendly mat option made with the bark of the cork oak tree. As an eco friendly alternative to synthetic rubber mats, a cork yoga mat offers yoga practitioners a range of benefits.
Pros of Cork Yoga Mats
Superior grip: The biggest advantage of a cork yoga mat over a regular mat is that it gets grippier as it gets wet. The cork contains a naturally occurring compound called suberin that acts like a slightly sticky glue between the cork surface and your skin. In hot yoga classes, this means that cork mats become less slippery as you sweat. Your hands and feet can grip the entire mat without worrying about the toxic phthalates or PVC found in synthetic mats.
Naturally antimicrobial: Studies have found that cork has some pretty impressive antibacterial properties. It can reduce dangerous bacterial levels and resist mold or mildew so you don't have to worry about cleaning it as often as other mats.
No odor absorption: You know that nasty smell from a sweaty mat that you forgot about in the back of your car for a few days? A cork mat doesn't absorb odors, so you never have to worry about stinking up the studio. In fact, cork is naturally water-resistant, so it's not going to absorb sweat either.
Most sustainable yoga mat: A cork yoga mat is one of the most eco friendly yoga mats that money can buy. It even rivals other sustainable materials like jute, natural rubber, and cotton because of its climate-conscious production. Cork can be harvested repeatedly from trees without cutting them down. In Portugal, cork oak trees offset millions of tons of carbon every year just by growing. Cork is also 100% biodegradable, recyclable, and free of toxins. However, because it is rare to find a 100% cork mat, you also need to be aware of the sustainability of the base material used to make cork yoga mats.
Non-toxic: From polyvinyl chloride to heavy metals to phthalates and beyond, there's a shocking amount of carcinogenic chemicals used in producing conventional yoga mats. A cork yoga mat lets you breathe easy without worrying about any toxic chemicals off-gassing while you flow.
It just feels good: Ultimately, none of the benefits of cork yoga mats matter if they aren't enjoyable to practice with. The best thing about these mats is that they feel so good under your hands. They're soft, cushiony, and grippy on your hands. The cork material feels natural and "down to earth" while simultaneously supporting your balance and joints.
Cons of Cork Yoga Mats
May crack when folded: Cork is still a natural material, therefore it isn't always as pliable and flexible as foam or rubber mats. The biggest complaint yogis have about cork mats is their tendency to crack or develop lines if you regularly fold them. Every brand performs differently, but it may require a bit more more care to prevent a cork yoga mat from cracking.
Not as grippy when dry: Cork does tend to dry out and be less "sticky" without sweat or moisture. A damp cloth or a little bit of water on your hands can work wonders in slower Hatha or Vinyasa classes where you want a good grip without dripping sweat.
More expensive: Like many natural materials, cork is more expensive than conventional mats made from cheap rubber or foam. It can be difficult to find budget options. Most cork yoga mats range from $40-$100+.
Heavy: While cork is naturally lightweight, cork yoga mats tend to be a bit heavier than standard mats due to the density of the material beneath the cork layer. Thicker mats can weigh up to 8 pounds while thinner mats can weigh in closer to 4 pounds for easier use as travel mats.
Where Does Cork Come From?
Cork is a lightweight yet remarkably durable material harvested from the outer bark of cork oak trees. This medium-sized evergreen oak tree is native to the Mediterranean and northwest Africa. Its bark is one of the most sustainable materials on the planet and has been used for thousands of years for a wide range of applications. Instead of cutting down a whole tree for wood, cork trees can be harvested every 8 to 14 years and grow back between harvests.
In the yoga world, cork is most commonly found in cork yoga mats, cork blocks, and even cork yoga studio flooring. Thanks to its naturally rot-resistant and antimicrobial properties, cork yoga props can be manufactured without the use of harmful chemicals. Cork is also completely biodegradable, recyclable, and renewable.
Top 7 Cork Yoga Mats
The best yoga mats are supportive, grippy, non-slip, and good for our health as well as the environment. While cork seems like a universally perfect material for the job, not all cork yoga mats are created equal! They need to be made of high quality sustainably harvested cork that is properly manufactured to avoid cracking or damage during use.
Keep in mind that it is also rare to find a 100% cork mat. The best cork yoga mats have durable and natural backing materials to keep the mat in place no matter what. Here are our favorites:
Best Overall:
Luxury Cork Yoga Mat – Non Slip, Soft, Sweat Resistant. Thicker, Longer, and Wider for More Comfort…
This mat is the thickest cork yoga mat we found, but at 80″ x 26″ it also wins points for being a perfect extra wide and long option. Body By Yoga created this ultra luxury 6.5mm thick mat for dense cushiony support. It is the best cork yoga mat for anyone with joint problems or for doing floor exercises on hardwood.
Specially crafted by yoga teachers, this mat is made with the highest quality Portugese cork. It is crazy durable and engineered with six times more cork than a standard cork yoga mat. We love that it has an extra "give" for your joints and spine, yet still feels firm enough for full support during balancing poses.
The only downside we found about this cork yoga mat is it's heavy. But you get a bonus mini arm workout in while carrying it around!
Longer, wider, and thicker than most other mats
Alignment lines
Ultra premium quality cork from Portugal
Excellent grip
Amazing slip resistance in hot yoga
Very stable and sturdy
Unrolls perfectly into a flat mat every time
Heavy! Weighs 8.8 lbs
Not very portable
High price point
Best Portable Mat:
GURUS Sweat Proof Durable Cork Yoga Mat 4.5mm Thick Non Slip Exercise Mat for Home Workout
One of the most durable and lightweight cork yoga mats on the market, the Gurus brand mat is portable, chemical-free, and latex-free. The cork composition and manufacturing of this mat was inspired by the founder's upbringing in Kerala, India. It weighs in at just 2 pounds and includes an adjustable shoulder strap for ultimate portability.
This mat is 75″ x 25″ and has incredible grip. In hot yoga classes, it gains even more traction for slip-free movement. We also love that this brand plants a tree for every mat purchased.The only downside is that the lower portion of the mat is made from synthetic TPE, which may off-gas chemicals when heated.
Soft, natural surface against your skin
Super grippy on both surfaces
Mid-range affordable price point
Non-toxic
High density and great cushion
Durable and long-lasting
Only 2 lbs, very portable
Perfect for Bikram, Vinyasa, and Ashtanga
Quick-drying
Medium-thin mat
Contains TPE (thermoplastic elastomers)
Damaged by folding (need to roll)
Not as great for yin yoga or non-sweaty classes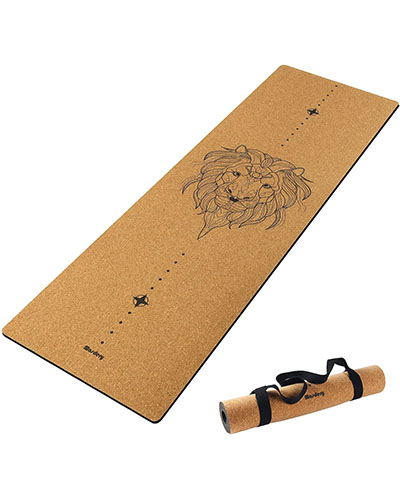 Most Beautiful Cork Yoga Mat:
MASDERY Cork Yoga Mat Non Slip Naturel Rubber 72″x 24″ Body Line High Elasticity 4mm Thick Yoga Mat…
This is one of the most beautiful cork yoga mats we've found. It also has some of the highest quality cork. It weighs about 5 pounds, is 4mm thick, and 72″ x 24″ in size. The natural cork and pure eco rubber pulp both come straight from nature and make this mat non-slip, odor-less, and 100% renewable. It is also 6P free (phthalate free) and recyclable.
The Masdery cork yoga mat comes with a gorgeous line-drawn lion or bird geometric art with alignment lines for perfect poses.
Beautiful lion or bird design with alignment lines
High quality dense cork
Pure rubber backing materials
Easy to clean
Odor-less and non-slip for hot yoga
Excellent shock absorption
Wear-resistant carrying strap included
Fairly heavy (5 pounds)
Initial rubber smell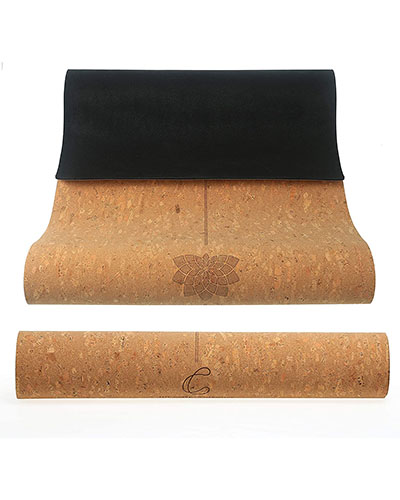 Most Eco-Friendly:
CorkTec Non Toxic Non Slip Thick Cork Yoga Mat with Eco-Friendly Organic/Vegan Cork, Pilates Mat,…
If you're looking for the most non-toxic and environmentally friendly cork yoga mat possible, the CorkTec checks all the boxes. It's biodegradable, 100% natural, renewable, and free of chemicals.
This mat is made of a pure cork upper and natural rubber lower. The cork comes from Forestry Stewardship Council (FSC) certified cork grower in Portugal and Spain. The natural rubber is a renewable resource from rubber trees.
This mat is 72″ x 24″ and 4mm thick. It weighs about 5 pounds, rolls up really nicely, and lays perfectly flat the second you un-roll it. We were impressed by the great grip, non-cracking, and high quality. The one downside is the natural rubber smell that may bother people who aren't used to it.
Pure cork and natural rubber
No PVC, TPE, or plastic backings
FSC certified cork producer
Extremely non-slip on both sides
Gets extra grippy with sweat
Very durable
Mid-range affordability
Lifetime warranty
Natural woody smell may linger
This is the best cork yoga mat for anyone with allergies or chemical sensitivities, for for yogis who need a yoga mat that is extra tall and wide. Anyone concerned about hormone-disrupting chemicals called phthalates will be glad to know that this cork yoga mat is certified 6P Free. This means it is also completely free of plasticizers and petroleum-byproducts. It is chemical-free, recyclable, biodegradable, and vegan.
It has an ecological cork upper surface and pure natural rubber lower. The rubber backing is naturally anti-skid, while the eco cork upper provides really good grip. It is about 5mm thick and available in two sizes: 72″ x 26″ and 79″ x 27″.
Both materials work together to create an easy-to-clean and stable surface for any type of yoga. We love the Semper Sanus for its ultra-sustainability and extra durable materials.
One of the best cork yoga mats for eco-friendliness and non-toxic construction
Super strong (no tearing or cracking)
Rolls up easily and always un-rolls flat
100% pure natural rubber backing with 100% ecological cork upper
6P free (no phthalates!)
Two size options
Mid-to-high price point
Heavy (7 pounds)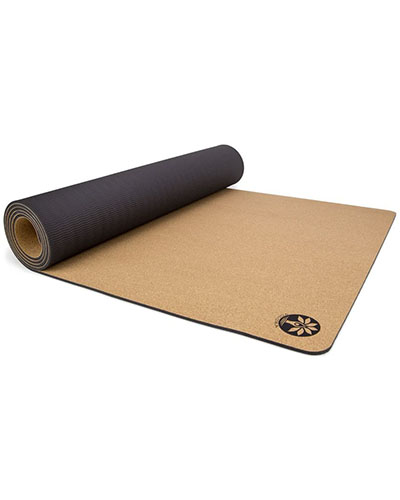 Best Cushion:
Yoloha Aura Cork Yoga Mat | Non Slip, Sustainable, Soft, Durable, Lightweight, Premium, Handmade…
With over 6mm (0.24″) thickness, the Yoloha Aura is one of the most joint-supportive cork mats on the market. It has a completely natural cork upper with an an ultra cushioned closed cell foam bottom. Though the foam is synthetic, the brand ensures that there are absolutely zero PVCs, latex, plasticizers, or chemical rubber smells.
This mat stays dry and non-slip even in the sweatiest conditions. It doesn't absorb moisture or odors, so you don't have to clean it nearly as often as a regular mat. It feels like a dense stable pillow against your knees, wrists, or back, yet it's still super easy to balance on for standing poses. The mat stays laying flat without bunching up during flows.
Extra cushion and density for sensitive joints (6mm)
Eco-friendly sustainably sourced cork from Portugal
Two size options: 72″x26″ or 80″x26″ for tall yogis
Latex-free
100% vegan
Ultra light and portable (2.8 lbs and 5 inches diameter when rolled up) – the best travel option
Higher price point
Not as anti-slip as other brands
Foam lower is not natural material (but it is PVC-free and non-toxic)
Yoloha also offers some other awesome yoga gear like their cork yoga mat bag, cork yoga blocks, and cork yoga wheel.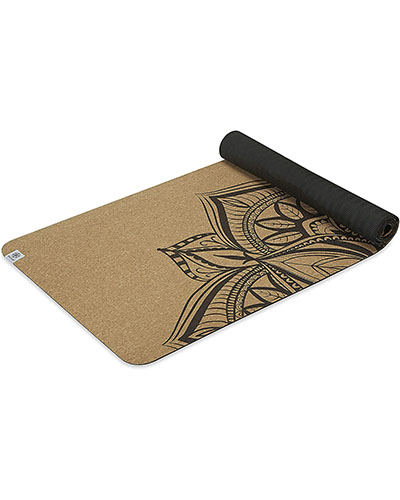 Budget Option:
Gaiam Cork Yoga Mat | Natural, sustainable cork print design stops odors | Non-toxic TPE Rubber…
At under $40, it's difficult to find a better budget option than Gaiam's cork yoga mat. Though this mat has a synthetic TPE rubber backing, we love the patterned natural cork upper. It has excellent traction and softens in humidity.
The Gaiam cork yoga mat is pretty dang sustainable, but we don't know how chemical-free it is. The cork upper comes from sustainably managed cork trees, but the TPE rubber bottom could have hidden chemicals. Nonetheless, it is affordable and slip-free with moderate cushioned and odor-resistance.
Very affordable price point
Perfect for hot yoga
Great traction
5mm and 68″ x 24″ size
Aesthetic printed cork upper
Naturally odor-resistant
Easy to roll
TPE rubber lower (may have a rubber smell or chemicals)
A bit heavier at 4-5 pounds
FAQs
Are cork yoga mats slippery?
Unlike PVC and synthetic rubber mats, cork yoga mats are made from the most anti-slip materials on the market. They actually get less slippery and more grippy under moist and humid settings (which of course makes them perfect for hot yoga sessions).
Are cork yoga mats good?
If you're looking for yoga mat that feels stable, supportive, cushiony, and grippy without any toxic chemicals or environmentally-harmful manufacturing processes, cork yoga mats were made for you! Many hot yoga instructors swear by cork yoga mats for their superior grip, naturally anti-slip feel, and sustainable eco-friendly manufacturing process.
Key Takeaways: The Best Cork Yoga Mats are Natural,
If you're wanting to add more traction, support, and earth-friendliness to your yoga practice, an organic cork yoga mat could be a game changer. The performance, smooth surface, and eco friendly materials give conventional mats a run for their money. Plus, you don't have to worry about any harsh chemicals.
Based on our review, you can't go wrong with any of these mats. Cork is an incredible material that almost seems like a miracle for yoga: it's non-slip, grippy (and gets even grippier when you sweat on it), super durable, eco-friendly, non-toxic, and feels really nice on your hands and feet.
While any cork mat can deliver these benefits, the Body By Yoga mat is by far the best cork yoga mat we've found thanks to its extra padding, density, quality, and durability.
Namaste!